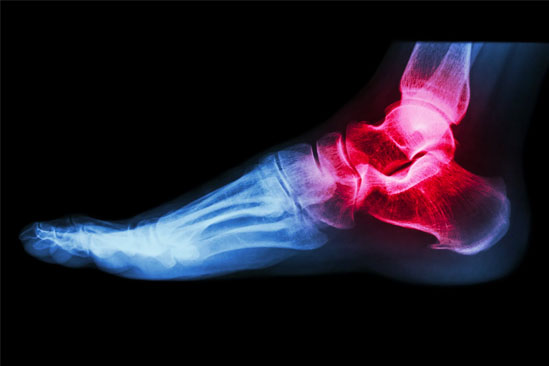 Painful feet can affect our ability to enjoy the most basic activities in our daily lives. Did you know the foot has 26 bones, 33 joints, 107 ligaments, 19 muscles, and numerous tendons? These parts all work together to allow the foot to move in a variety of ways while balancing your weight and propelling you forward or backward on even or uneven surfaces. It is no wonder that 75 percent of all Americans will experience foot problems at one point or another in their lifetimes.
Common Conditions Treated
Adult Flatfoot
Ankle Injuries
Arch Pain – Arch Strain
Arthritis
Athlete's Foot
Athletic Injuries
Bunions
Burning Feet
Corns and Calluses
Diabetic Foot Care
Fungal Toenails
Hallux Limitus/Rigidus
Hammertoes
Heel Pain – Heel Spurs
Heel Pain – Plantar Fasciitis
Infections of the Foot
Ingrown Toenails
Joint Pain
Metatarsal Stress Fracture
Neuromas
Plantar Fasciitis
Plantar Warts
Posterior Tibial Tendonitis
Reconstructive Foot Surgery
Sesamoiditis
Soft Tissue Masses
Sports Injuries
Tendon Injuries
Traumas
Tumors
Ulcerations
Surgeries are performed in a State Approved Surgical Center.
Comprehensive Care of Foot and Related Disorders
Diabetic Foot Care
Routine Foot Care Services
Non-Surgical Treatment of Athletic Injuries
Custom-Molded Orthotic Shoe Gear
Diabetic Shoe Gear Program
Foot Surgery
Work Related Injuries
Minor In-Office Surgical Procedures
Ossa Tron Certified
Corns and Calluses
Reconstructive Foot Surgery