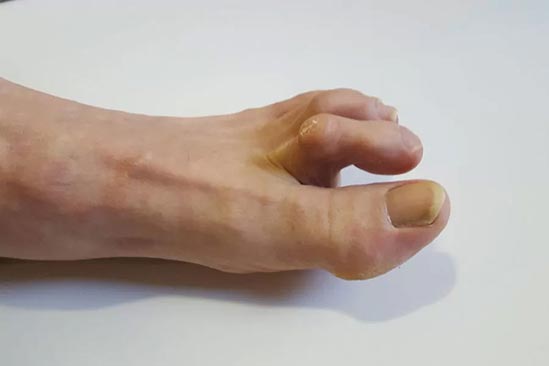 TREATING A HAMMERTOE
Foot pain is one of the most common and painful conditions. Dr. Aakruti bhalja is an expert in hammer toe surgery. If a hammer toe is ruining your life, dr bhalja will obtain x-rays to decide the severity of the hammer toes, review the surgical options to reduce pain and deformity. She will also discuss recovery time, return to work and activity.
Dr. Bhalja is a highly reviewed hammertoe treatments specialist.
Patient sharing their experience after undergoing successful foot Surgery
We strive to provide the highest level of care with surgical treatments of Hammer toes. Patients have consistently given us 5-stars in their reviews. From your initial appointment booking, to the interaction with front desk staff, to our doctors, & to the experience at the surgical center, we strive for perfection. Check out our reviews on the top medical review sites.
feedback
patients testimonials
★★★★★

Dr. Bhalja was professional, thoughtful, sensitive and compassionate at a time when I was worried and in pain. Her ability to both listen to my needs and concerns and offer concrete help all done with a professionalism and humanity that I rarely find when a new patient was both reassuring and a testament to her as a skillful doctor and practitioner. – R.D
★★★★★

Dr. Bhalja may be the nicest person I ever met. She has an excellent bedside manner. She answered all of my questions and sent in my prescriptions immediately. I was very nervous about going to a podiatrist and she put me at ease immediately. – Maxwell S.
WHAT IS A HAMMER TOE?
A hammertoe is a claw-like appearance of one or multiple toes. This is a common deformity that forms due to the contraction of the toe joint. Tendons and muscles in the toes cause irregular pressure against the bone of the toe, causing it to bend into a claw-like appearance. There are different types of hammertoes, some rigid and some flexible. Hammertoes are often painful during walking and form painful corns and calluses.
WHAT CAUSES A HAMMERTOE?
It is not your fault! Hammertoes are often caused by an inherited type of type or stance, such as flat feet or high arches. Women are also prone to this condition possibly due to the shoes worn. Also, hammertoe can happen in people with poor circulation due to diabetes. Injury and arthritis can also cause hammertoes
CORNS OR CALLUSES CAN BE A SYMPTOM OF A BUNION!!!
SYMPTOMS OF A HAMMERTOE:
Toe pain with walking
Corns and calluses on toes
Toe joints are swollen
2nd, 3rd, and/or 4th toes are curled in, pointing downward
Open sores, inflammation, redness
Dr. Bhalja, our expert foot surgeon, will evaluate your foot and give you a definite diagnosis
SURGICAL OUTCOMES
pre op AP view hammer toes 2-5
pre op Oblique view hammer toes 2-5
post op oblique and AP views hammer toes 2-5
pre op oblique view – hammer toes #2 and 3
Post op Oblique view Hammer toes #2 and 3
FAQs
What can be done to prevent a hammertoe from getting worse?
Buy shoes at the end of the day as the feet swell more and will get a better sense of fit. Also buy shoes with good arch support. Avoid pointy or narrow toe shoes. Orthotics can help hammertoes from worsening.
When should surgery be considered?
When pain from the hammertoes is interfering with daily activities you shoulder speak with a Foot Surgeon.
Is hammertoe surgery painful?
Some pain is expected in the first 1-5 days that is often easily manageable with medication.
How long is recovery after surgery?
Most patient have a rapid recovery, walking the same day with a special shoe. Healing takes about 2-6 weeks. Factors that influence recovery include type of foot deformity, severity of deformity, your age and health, compliance with surgery post-operative course.
Is hammertoe surgery covered by insurance?
Yes, most hammertoe surgery is covered by insurance.
Why hammertoe surgery?
If conservative non-surgical measures have failed to control pain and deformity, then surgical correction is indicated.
Conservative treatments include:
Orthotics
Toe Sleeves
Toe Strapping
Oral Anti-inflammatory medication and Injections
What are the risks of hammertoe surgery?
Every surgery has risks. It is important to review the risks and benefits of any surgical intervention with your surgeon. Some possible risks include post-surgical pain, infection, delayed wound healing, recurrent deformity, nerve injury, or loss of fixation.
Wearing a shoe with a wide and deep toe box can reduce pain from hammertoes!
State of the art

treatment facility
Downtown
Podiatry in the news
February 24, 2021
February 24, 2021
February 24, 2021