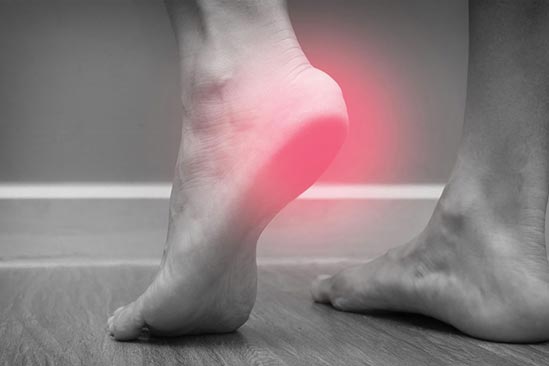 TREATING

PLANTAR FASCIITIS

Plantar fasciitis is an inflammation and pain in the plan fascia. This fascia is a thick band of tissue that connects the heel bone to the toes. Symptoms in some cases can involve severe pain and can interfere with activity. Many conservative treatments exist, but when they are ineffective then surgery is indicated.
If you have pain due to plantar fasciitis, Dr. Bhalja will perform a physical examination, review x-ray and/or mri imaging, and review the surgical and non-surgical options to reduce pain and deformity. She will also discuss recovery time, return to work and activity.
Dr. Bhalja is a highly reviewed Plantar Fascia specialist.
feedback
patients testimonials
★★★★★

dr. Bhalja was wonderful. She took the time to explain the procedure i was having done. She also answered all my questions with patience. – Ann
★★★★★

Dr. Bhaljia was so detailed, warm, and personable! She was so patient and made sure to x-ray my injured foot from various angles to ensure she could make an informed diagnosis. She also gave great advice for lifestyle changes to implement to support my foot health for the long-term! – Sabrina
What is

plantar fasciitis?

In this condition, the thick tissue called plantar fascia gets inflamed. Causes may include repetitive strain injury from excessive running or walking, poor foot gear, and injury. Mild cases will often resolve spontaneously. Foot and calf stretches can speed up recovery. In some cases, this can become a chronic condition
CONSERVATIVE TREATMENTS FOR PLANTAR FASCIITIS
Nonsteroidal anti-inflammatory meds (nsaids)
Stretching exercises of calves and feet
Physical therapy
Corticosteroid injection
SURGERY OF PLANTAR FASCIITIS
Surgery may be necessary when conservative treatments fail, and pain persists. Plantar fascia release involves making small cuts in a small fraction of the fibers that make up the fascia. This releases the tension in the ligament. A minimally invasive approach is possible that includes less post-operative pain and faster healing with a small surgical scar.
Dr. Bhalja, our expert plantar fascia foot surgeon, will evaluate your foot and will provide you a definitive diagnosis and treatment options.