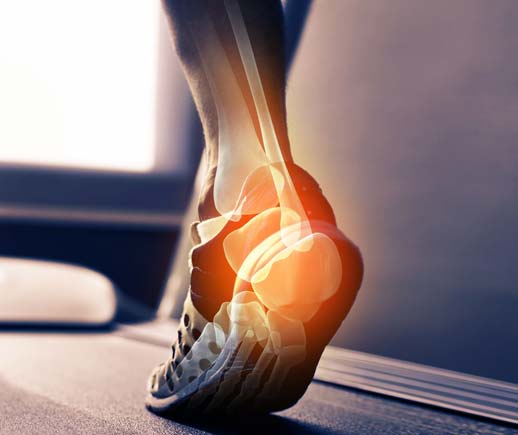 ANKLE PAIN SURGERY NYC
Ankle pain is very common with virtually everyone having it at some point in their lives. Some people simply step wrong and have pain that's relieved by rest, icing, and over the counter medications. Others develop ankle pain due to underlying conditions such as arthritis, torn ligaments and tendons, or a rupture of the Achilles tendon. There are several different types of ankle surgery that can be extremely effective and part of a successful treatment plan. At Downtown Podiatry Physicians, we work with you to determine the cause of your ankle pain and how best to approach pain relief, improving mobility and strength, and putting you in the best possible position. Let's look at some of the most common ankle surgery options.
patients testimonials
★★★★★

Excellent service, quality care, and an extremely kind staff! Dr Bhalja was very attentive to any questions or concerns I had, and made me feel very comfortable as a patient for every visit. I had a minor surgery on my right ankle. The procedure went extremely well and Dr. Bhalja not only delivered great results and insight; she also made my time as a patient enjoyable, which I can't say for every doctor. All around a great staff and I would definitely recommend them.
★★★★★

Dr. Bhalja was wonderful. She took the time to explain the procedure I was having done. She also answered all my questions with patience. – Ann
Ankle Ligament Repair Surgery
Patients that have ankle instability and suffer from frequent sprains and strains. In these situations, the ligament in your ankle is not strong enough to function as it is intended. Most of the time this is a relatively simple, out-patient procedure that has you in your own home and recovering before the end of the day. For some, the existing ligament simply needs a few stitches to add strength and stability. In more severe cases, strengthening will come from using other tissues or a tendon to replace torn ligaments.
If you feel unstable when you walk, have a catching or locking feeling in your ankle, or you know you've had ankle injuries, you might have a strained or a torn ankle ligament. This can make you a prime candidate for ankle ligament repair.
After ankle ligament surgery, you'll need to give your ankle and ligament time to properly heal. This will include rest, using crutches or another assistive device, wearing a boot, and refraining from exercise, excessive standing, and sporting activities. You'll also have to cease driving for a period of time.
Patient sharing their experience after undergoing successful Ankle Surgery
We strive to provide the highest level of care with surgical treatments. Patients have consistently given us 5-stars in their reviews. From your initial appointment booking to the interaction with front desk staff, to our doctors, & the experience at the surgical center, we strive for perfection. Check out our reviews on the top medical review sites.
Ankle Tendon Repair Surgery
Tendon tears in the ankle can be caused by injuries, overuse, structural abnormalities or they can be caused by diseases such as diabetes and arthritis. The pain from tendon tears in the ankle is usually quite severe and includes swelling and instability.
To repair tendons in the ankle, your doctor will stitch the ends back together, if possible. This is a great solution in less serious cases. When the tear is more severe, then grafts will be used to reconstruct the tendon or add stability.
Tendons in the foot and ankle that are most prone to tears include:
Posterior tibialis – this tendon runs along the inside of the foot and ankle and is responsible for maintaining the arch of the foot and inverting the foot.
Peroneal tendon – each foot has a pair of peroneal tendons that run along the outside of your foot and ankle. They are responsible for the eversion of your foot.
Foot and ankle tendon surgery is very similar to ligament surgery when it comes to recovery. Expect to be off your foot and resting it for several weeks. Your activities will be limited as you give your body the appropriate time necessary for quality healing. The better you are about following your doctor's recovery guidelines, the greater your odds of having successful results are.
Achilles Rupture Surgery
Most people are familiar with Greek myth of Achilles, where he was dipped into the river Styx to make him invincible except for the area of his heel, where she held him. This led to the phrase Achilles Heel, which is meant to point out an area of weakness. Your Achilles tendon is obviously not mythological and anyone who has had a damaged Achilles tendon can tell you, it can be incredibility debilitating.
Your Achilles tendon is the largest tendon in your body, connecting your calf muscles to your heel and giving you flexibility and strength necessary to walk, run, and jump. When an Achilles tendon tears or ruptures the pain is generally immediate and very intense. You might find that you're unable to bend your foot downward in some cases.
While Achilles tendon ruptures often require some force, there is a degenerative condition involving the Achilles tendon known as tendinitis or tendinopathy. Generally, the pain is less intense and may present more like stiffness along the back of your heel. Tendinitis is often caused by overuse and repetitive stress, which can happen during sporting activities or your occupation.
Achilles tendon surgery to repair a tear, rupture, or tendinitis is similar. The tendon will be stitched back together if possible. If there is significant damage, a portion may need to be removed and replaced. The goal is usually to do all Achilles tendon repair in the most minimally invasive way possible, leading to better outcomes and less recovery time. That said, expect to have several weeks of recovery and reduced mobility in your foot and ankle. Your odds of success are greatly enhanced by your ability to allow your tendon to heal naturally.
What to Expect When Having Ankle Surgery at Downtown Podiatry Physicians
Rest assured, you are in the best hands possible when you trust Downtown Podiatry Physicians for your ankle surgery. Dr. Aakruti Bhalja is a top-rated surgeon who has performed thousands of surgeries. She is often called upon to lecture on her advanced techniques and the superior results her patients experience.
Customized treatment plan. Before your surgery, your doctor will discuss the procedure in detail and take your lifestyle, activity level, and overall health into consideration. This will lead to a customized plan that is designed to give you the best results possible. Any and all questions will be addressed before the surgery.
Before surgery. The night before surgery, you will be asked to cease eating and drinking to prepare your body for the anesthesia. You might want to prepare clothing that's comfortable and easy to get in and out of. Make sure you have a ride home arranged as you will not be able to drive after ankle surgery – even if it's on your left foot.
On the day of surgery. You will be asked to arrive an hour or two before surgery for preparation. During this time there will be some additional paperwork to complete, and you will once again walk through the procedure with your surgery team.
Most ankle surgeries are performed under general anesthesia. Whether your surgery is an in-patient surgery or out-patient will depend on the procedure and the severity of your condition.
Post-surgery protection. Most patients will receive be given some type of device to protect their ankle post surgery. This device could be a boot, crutches, a walker, wheelchair or leg scooter. Rest and protection are key parts of the healing process. You may also want to arrange your home so it's easy for you to move about bumping into objects once you get home.
No driving. As mentioned, you will not be able to drive home after your surgery, please make arrangements to have someone drive you home. You also will not be able to drive for a few days post-surgery. It's best to check with your doctor to see when they believe you'll be able to drive safely.
Follow-up care. Your doctor will prescribe some follow-up care for you to perform until your first post-op appointment. This might include rest, medications, icing techniques, and elevating your ankle. These steps will be thoroughly discussed with you and you'll receive written instructions, in case you should have any questions. If you feel you don't quite remember or understand your written instructions, please call our offices, we're happy to help.
Post-surgery appointments. Your medical team will schedule a series of appointments for you after your ankle surgery to make sure you're progressing as expected and to prevent complications. These appointments are very important and may include x-rays, dressing changes, exercises to begin working on range of motion, and pain medications.
FAQS
What are the most common types of ankle surgery?
The three most common surgeries are:
Ankle fracture surgery
Ankle fusion
Ankle joint replacement
How do I know if I need ankle surgery?
There are several warning signs when your body is telling you that surgery might be necessary:
Persistently stiff or swollen ankles
Pain from mild activity
Difficulty walking up or down steps
Aches, pain, or stiffness
Decreased mobility
What should I expect after ankle surgery?
After ankle surgery, you can expect to use either splint or cast, depending on the procedure. This can remain for 1-2 weeks to prevent joint movement. and enhance the healing process.
Is ankle surgery painful?
As with any surgery, you can expect to feel some minor pain or discomfort post-surgery. At Downtown Podiatry Physicians, we work with all patients to increase recovery time and minimize pain. It is essential to communicate any pain with us after the first few weeks.
How long after ankle surgery can I walk again?
Depending on the severity of the surgery and your body's recovery process, it can take 6 weeks or more before you can walk normally again. During this time, many patients use crutches or other devices to help keep weight off their ankles.
Downtown Podiatry Physicians
Our board-certified podiatrists in Downtown Manhattan and Brooklyn are dedicated to providing our patients with the best, customized care possible. We practice empathetic care with a modern approach that relies on thorough patient histories, starting with conservative treatment, and focusing on minimally invasive surgical techniques. Our podiatrists are award-winning experts and have strong connections with their patients. Don't just take our word for it – see what our patients have to say.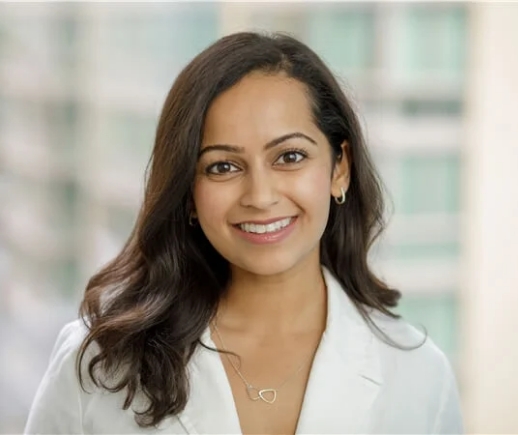 Meet Dr. Aakruti Bhalja
Dr. Aakruti Bhalja, DPM was raised in New Jersey and attended Rutgers University where she earned a bachelor's in biological sciences, nutrition, and psychology. Dr. Bhalja then obtained her doctorate from the New York College of Podiatric Medicine. She is a Board-Certified Podiatric Foot Surgeon and is considered a top expert in her field. Her techniques are often studied by podiatry residents, and she frequently provides lectures for medical staff.
Bachelor's Degree from Rutgers University
Doctorate Degree from New York College of Podiatric Medicine
Member of the American Board of Foot and Ankle Surgery
Treatment Specialties
Ankle pain
Achilles tendon issues
Hammertoes
Bunions
Corns/calluses
Plantar warts
Ingrown toenails
Toe pain
Heel spurs
Cosmetic foot concerns
Plantar fasciitis
Our Podiatric Facility
While our doctors are key to the success of our facility and the health of our patients, having a well-appointed and modern facility is also a very important factor. Not only does it make the experience more comfortable for our patients but also supplies our doctors with the best treatment tools possible.
Our state-of-the-art podiatric facilities are in Brooklyn and Manhattan and conveniently located for residents in Downtown Brooklyn, Lower, Midtown and Upper East Side Manhattan, the East Village, Greenwich Village or Murphy Hill.
Our quality of care is considered among the finest in the country, and with the technology and expertise to back it up, our patients find the relief they are seeking. Connect with our offices today to take the first step toward foot pain relief.