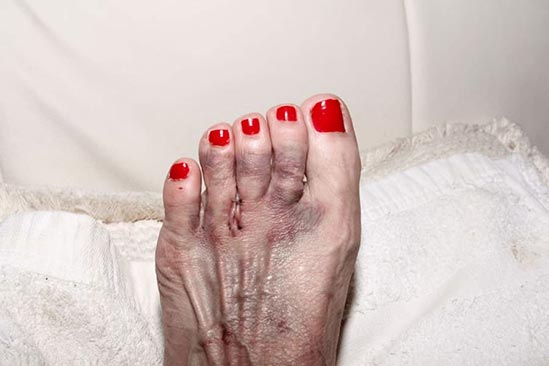 NEUROMA TREATMENT NYC
Neuroma of the foot, also known as Morton's neuroma, is a benign condition that is often very painful. It usually happens between the third and fourth toes at the ball of the foot. Pain can be sharp and burning, and sometimes even numbness can be present. High heels are a common cause of Morton's neuroma.
Dr. Aakruti Bhalja is an expert in treating Morton's neuroma. If you have a neuroma, Dr. Bhalja will perform a physical examination, review x-rays or MRI findings, and review the surgical and non-surgical options to reduce pain and deformity. She will also discuss recovery time, return to work, and activity.
Dr. Bhalja is a highly reviewed Neuroma specialist.
feedback
patients testimonials
★★★★★

dr. Bhalja was wonderful. She took the time to explain the procedure i was having done. She also answered all my questions with patience. – Ann
★★★★★

Dr. Bhaljia was so detailed, warm, and personable! She was so patient and made sure to x-ray my injured foot from various angles to ensure she could make an informed diagnosis. She also gave great advice for lifestyle changes to implement to support my foot health for the long-term! – Sabrina
WHAT IS A MORTON'S NEUROMA
There is a thickening of the tissues around the nerve that travels between the 3rd and 4th toes in this condition. The most common symptoms include a feeling of standing on a pebble in your shoe, a burning sensation in the ball of your foot, and tingling/numbness in the toes. Usually, pressure or injury to the nerve between the toes causes the neuroma to form. Risk factors include wearing high heels, foot deformities such as Bunions, Hammertoe, flat feet, high arches, and high impact sports.
MORTON'S NEUROMA TREATMENTS
MORTON'S NEUROMA SURGERY
When conservative treatments are ineffective, surgical removal of the neuroma is possible. A minimally invasive technique is possible that involves the removal of the nerves in the ball of the foot (called Neurectomy). This is performed with a small incision. In addition to removing the nerve, your surgeon may also need to release the tight ligaments as well.
A consultation with your surgeon is required to see if Morton's neuroma surgery is appropriate for your diagnosis.
WHAT HAPPENS AFTER NEUROMA SURGERY?
You will wear a specially made boot after surgery. It is possible physical therapy may be needed to improve the outcome of this surgery. Recovery depends on the severity of the condition, the patient's age, and general health status. Most patients recover within several weeks.
Dr. Bhalja, our expert foot surgeon, will evaluate your foot and will provide you a definitive diagnosis and treatment options.