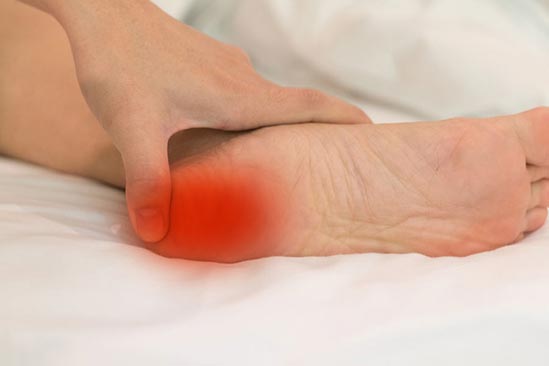 Heel Spur Surgery in NYC
A calcium deposit at the bottom of the heel or sole can be very painful. This bony-like outgrowth can be caused by some types of exercise, having flat feet, or wearing poorly fitting shoes or heels. Although heel spurs can be painless, they often cause pain. Sometimes this pain can be debilitating, interfering with most activities. Surgical treatment is one of the options for treating painful heel spurs.
Being overweight can put you at risk of developing a heel spur!!!
Dr. Aakruti Bhalja is an expert in treating heel spurs. If you have heel spurs, Dr. Bhalja will obtain x-rays to evaluate the extent of the problem, perform an extensive physical examination, and review the surgical and non-surgical options to reduce pain and deformity. She will also discuss recovery time, return to work, and activity.
Dr. Bhalja is a highly reviewed heel spur specialist.
feedback
patients testimonials
★★★★★

dr. Bhalja was wonderful. She took the time to explain the procedure i was having done. She also answered all my questions with patience. – Ann
★★★★★

Dr. Bhaljia was so detailed, warm, and personable! She was so patient and made sure to x-ray my injured foot from various angles to ensure she could make an informed diagnosis. She also gave great advice for lifestyle changes to implement to support my foot health for the long-term! – Sabrina
WHAT IS A HEEL SPUR?
A painful bony outgrowth at the bottom of the ball of the foot can cause a considerable amount of dysfunction. These outgrow have various shapes, including hooked, shelf-like, and pointy. Sometimes the outgrowth can be toward the middle part of the foot, called the plantar fascia. It can be up to a half-inch long! Ouch. An x-ray is often needed to confirm the diagnosis.
SYMPTOMS OF HEEL SPURS:
A knife-like pain at the heel in the morning
Dull ache the rest of the day
The ball of foot feels hot
A bone-like protrusion is sometimes visible
Swelling at the heel
Sometimes no symptoms at all
RISK FACTORS FOR HEEL SPURS?
Older age
Female
Trauma
Activities like running
Overweight
High or low arched foot
Ankylosis spondylitis, Reiter's disease, Plantar Fasciitis
Improper footwear can lead to heel spurs!!!
Dr. Bhalja, our expert foot surgeon, will evaluate your foot and will provide you a definitive diagnosis and treatment options.
Corns or calluses can be a symptom of a bunion!!!
SURGICAL TREATMENT OF HEEL SPURS
There are two types of surgeries available, the release of plantar fascia and removal of the heel spur.
RELEASE OF PLANTAR FASCIA
About 50% of patients with plantar fasciitis have a heel spur. In these cases, too much strain on the plantar fascia causes the heel spur to form. So, the pain can be coming from the inflamed plantar fascia instead of the heel spur. Your surgeon can perform a procedure to release the plantar fascia. This involves cutting this ligament to release tension and reduce inflammation in the plantar fascia. This procedure is outpatient.
REMOVAL OF HEEL SPUR
Your surgeon can remove the bone spur using surgical instruments. This procedure can be done open or with an endoscope, using a couple of smaller incisions.
SURGICAL OUTCOMES