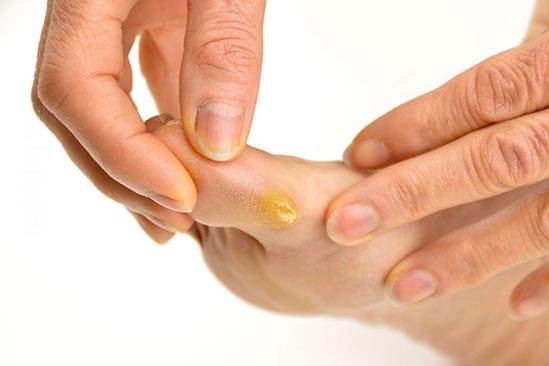 Foot Corn Removal NYC
Corns and calluses often develop on feet and toes when your skin tries to protect itself against friction. In a healthy person, corns need to be treated only if they cause discomfort. Sometimes it can be as simple as eliminating the source of friction to cure corn. However, sometimes, a surgical procedure may be required. Dr. Aakruti bhalja is an expert in treating corns. If you noted corns or calluses on your feet or toes, dr bhalja will obtain x-rays and/or MRI to evaluate the extent of injury, perform an extensive physical examination, and review the surgical and non-surgical options to reduce pain and deformity. She will also discuss recovery time, return to work, and activity.
Dr. Bhalja is a highly reviewed corn removal specialist.
feedback
patients testimonials
★★★★★

dr. Bhalja was wonderful. She took the time to explain the procedure i was having done. She also answered all my questions with patience. – Ann
★★★★★

absolutely love dr. Bhalja. She has amazing bedside manner and super knowledgeable – Adam
WHAT IS A CORN?
A corn is a hardened raised bump most common on toes. It can be pain-free or painful. The skin of the corn is thick and rough, as well as flaky and dry. Corns often have a hard center surrounded by inflamed skin. Parts of your feet that undergo pressure are most prone to their formation, for example, tops and sides of toes and weight-bearing areas like balls of feet.
Calluses are usually not painful and develop on the soles of your feet. They can be any size but are often larger than corns. Often, however, there is an underlying foot condition that puts one at risk for corns.
Risk factors for corns?
WHAT CAUSES CORNS?
Friction and pressure from a repetitive action is the most common source of corns. What causes this friction? Wearing shoes without socks and wearing poorly fitting shoes are some of the most common causes. A corn is caused by an underlying condition such as a bunion or hammertoe deformity!!! Dr. Bhalja, our expert foot surgeon, will evaluate your foot and will provide you a definitive diagnosis.
SURGICAL REMOVAL OF CORNS IN NYC
This is a quick outpatient procedure that usually takes less than 20 minutes. First, a local anesthetic is used to numb the area; a sterile scalpel is used to carefully shave off the dead skin all the way to the root of the corn. Also, if there is an underlying deformity such as a Hammertoe or Bunions causing this corn, this deformity can be surgically corrected to prevent the recurrence of corns. Dr. Bhalja is a board-certified foot surgeon who will treat your corns to alleviate your corns' pain and appearance.
If you have any further questions regarding the diagnosis or treatment of corns, our board-certified foot surgeon is available for a consultation.