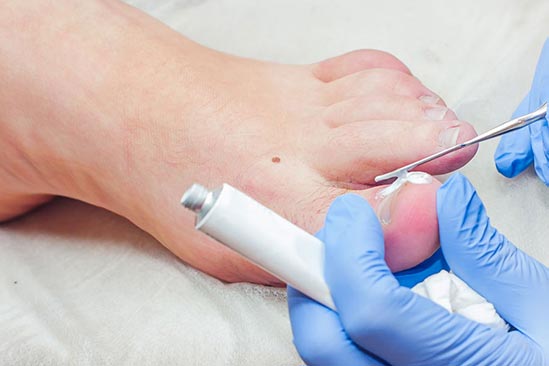 INGROWN TOENAIL TREATMENT NYC
About 20 of all visits to the doctor for foot complaints involve ingrown toenails. This is called Onychocryptosis. As the toenails grow into the foot, this condition can be very painful. The most common reason for ingrown nails is poor fitting footwear. Dr. Aakruti Bhalja is an expert in treating ingrown toenails. If you have ingrown nails, Dr. Bhalja will a physical examination, and review the surgical and non-surgical options to reduce pain and deformity. She will also discuss recovery time, return to work, and activity.
Dr. Bhalja is a highly reviewed toenail treatments specialist in NYC.
feedback
patients testimonials
★★★★★

As a runner I faced a lot of heel & foot pain. Dr. Bhalja put an end to my suffering. She is the best. – Howard
★★★★★

Dr. Bhalja is thorough and careful, and she has a wonderful "chair side" manner. – Alison
WHAT IS AN INGROWN TOENAIL?
In this condition, a corner of the toenail grows into the flesh of the toe. The most common site is the big toe. Pain, swelling, and redness are possible. There are many reasons for ingrown toenails. Sometimes it's congenital when the toenail is too large for the toe. The most common causes, however, are shoes that are too tight or poor trimming techniques. Some conservative treatments include wearing sandals to reduce the pressure on the toenail and soaking the toe in warm water. Because ingrown toenails can irritate the skin, bacteria can enter and cause an infection. Some signs of infection include pus, redness, swelling and severe pain, and sometimes fever. If you are suspecting an infection, please see a doctor immediately.
Symptoms of plantar warts
Bumpy growths on the soles of feet
Circular flat spot with a depressed middle
Yellow with a crust or a black spot in the middle
Pain in the sole with standing or walking
Ingrown toenail surgery?
This is an outpatient procedure done in the office. The doctor will numb the area with a local anesthetic. If a patient is very anxious, sometimes twilight anesthesia can be provided through the iv. Many surgical treatment approaches are possible:
Toenail removal (entire toenail is removed)
Wedge resection (part of the toenail is removed)
Matrixectomy (if nail removal and wedge resection fail, it may be necessary to remove the nail bed in addition to the nail)
Tip of the toe surgery (remove and reshape soft tissue at the tip of the toe)
A consultation with your surgeon is required to figure out what procedure is appropriate for your diagnosis.
WHAT HAPPENS AFTER NAIL SURGERY?
It may take several weeks for the wound to heal. Pain will gradually decrease as the wound heals. For the nail to regrow back, it may take several months.
NONSTEROIDAL ANTI-INFLAMMATORY MEDS (NSAID) WILL REDUCE PAIN AND SWELLING AFTER SURGERY!!!
Dr. Bhalja, our expert foot surgeon, will evaluate your foot and will provide you a definitive diagnosis and treatment options.